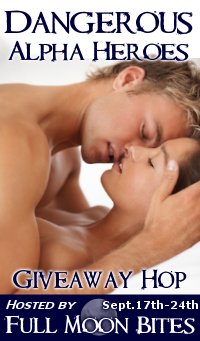 Dangerous Alpha Heroes……honestly, that is EXACTLY what my blog is all about! My favorite books have Alpha males that may be dangerous to others, but they take care of their woman in EVERY way possible.
We are actually working on the new blog heading now that says "Ana's Attic-Alpha Males in Sexy Tales" so this hop is just perfect! There are so many different Dangerous Alphas I love. The most dangerous and I think my all-time favorite alpha is Bones from Jeaniene Frost's Night Huntress series. I LOVE me some Bones!
But the QUEEN of Alpha male romances is Kristen Ashley. Every one of her books (like 40!) has a sexy Alpha who is almost always dangerous. But they treat their women like gold, will protect them with everything they are, they know when they have something good, and let their woman know. Most importantly, they don't take crap from anyone (including their woman!)
I think Kristen Ashley's most Dangerous Alpha is a toss-up between Knight from Knight and Tack from Motorcycle Man (part of the Dream Man Series). Both are sexy. Both are scary. Both are yummy.
For this Blog Hop, I am going to give away an e-book of Knight (Unfinished Hero Series 1) by Kristen Ashley, because the second in that series, Creed, just released this weekend and I am re-reading Knight and loving it even more the second time around. Creed is my next read.
KNIGHT (Unfinished Heroes) by Kristen Ashley
Anya Gage has learned that to get anything good in life, you have to work for it. She has no expectations, no dreams.
Then she finds herself at a party where she doesn't want to be and she meets Knight.
Knight Sebring knows who he is, what he wants and what he likes. And he gets it. But he never expected something as sweet as Anya Gage to wander into his bedroom during a party he did not expect to be having to borrow his phone.
Knight tries to leave Anya to the life she deserves of white picket fences and a man who watches football on Sundays – good, normal and clean. But when Anya comes to his nightclub and finds herself in a situation, he knows someone has to look after her, he can't fight it anymore and he decides that man will be him.
Knight teaches Anya that, just as with the bad, in life you should also expect the good. And he teaches her this by giving it to her.
But Knight has a dark past and just as he desires Anya for exactly who she is, he fears when she finds out exactly the man he has become and always intends to be, she'll leave him for good, normal and clean.
Purchase Knight by Kristen Ashley at Amazon || BN.com || iBooks
Already read Knight? No prob, I'll get you another Kristen Ashley book!
Related Posts:
a Rafflecopter giveaway
Be sure to visit all the other stops on the linky list